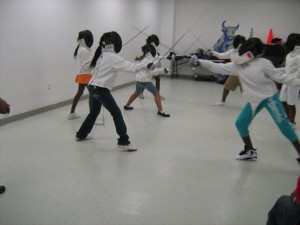 The YET Center offers a unique opportunity for boys and girls to to learn the sport of fencing.  Fencing encourages endurance, quick response, strategizing, visualization, and tactics. The sport of fencing encourages proper etiquette such as saluting an opponent, the referee and the audience at the beginning and conclusion of a match. Fencing teaches kids to harness their aggression. It is a sport where anger is not involved.
Fencing requires a certain level of protective clothing, such as a cotton jacket, gloves, mask and sabre.
Please support the Gwen Cherry Park Foundation to help provide annual funding for this program. Donations are currently being accepted.
DONATE TODAY!
---
A copy of the official registration and financial information for the Gwen Cherry Park Foundation (#CH21734) may be obtained from the division of consumer services by calling toll-free (800)435-7352 within the state of Florida. Registration does not imply endorsement, approval or recommendation by the state.