Communities In Schools of Miami provides a variety of activities during the month of February to commemorate Black History Month. Events are carefully planned to raise the self-esteem and enhance the cultural awareness of the children. One of the highly anticipated activities is an oratorical contest, the children conduct research and select a speech by a well-known African American. Their reading skills and knowledge of Black Americans are enhanced.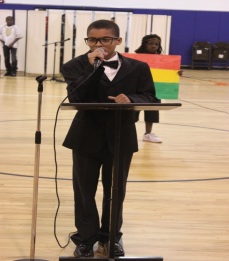 In prepartion for the oratorical presentation, children learn the importance of research, practicing to speak in front of an audience, and how to be poised while speaking on stage.
Another activity held in February is a talent showcase.This activity allows the youth to present their talents and skills before community members, and it encourages their desire to be recognized for a talent. Participants in the oratorical competition and the Talent Show are judged by their peers.
The Gwen Cherry Park Foundation provides funding for supplies and prizes for each contest.
Please support the Gwen Cherry Park Foundation to help provide annual funding for this program.  Donations are currently being accepted.
DONATE TODAY!
---
A copy of the official registration and financial information for the Gwen Cherry Park Foundation (#CH21734) may be obtained from the division of consumer services by calling toll-free (800)435-7352 within the state of Florida. Registration does not imply endorsement, approval or recommendation by the state.