Prior to the start of the annual school year, the Gwen Cherry Park Foundation secures school supplies to donate to the children in the community, including backpacks. These school supplies are given to children who are already  participants in the center's activities.
All school supplies are new and they include pencils, erasers, paper, folders, and other commonly used school supplies.
This is an activity that is unique and generates a great deal of excitement each year. The book bags and other supplies are donated by different entities. Local organizations are encouraged to partner with other groups to enhance this back to school event.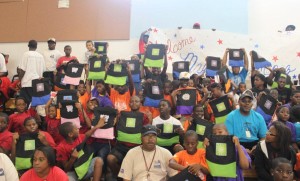 Please support the Gwen Cherry Park Foundation to help provide annual funding for this program. Donations are currently being accepted.
DONATE TODAY!